top

top
Top Drog Decides Dull Affair (Sky Sports)
Chelsea 1 Manchester United 0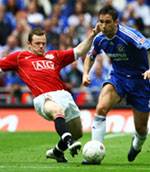 The first FA Cup final at the new Wembley proved to be the proverbial damp squib but Chelsea will care not one iota, after Didier Drogba's goal in extra-time proved enough to exact revenge over a Manchester United side that have usurped them as Premiership champions.
It was fitting that after a season in which the Ivorian has proved king of Stamford Bridge, it was he that settled a contest that otherwise was lethargic in living up to none of the pre-match hype that had surrounded it.
A full 116 minutes had elapsed when Drogba played into Frank Lampard and after the England man had flicked into his path, the powerful striker was calmness personified in poking past Edwin van der Sar.
The opening exchanges were respectful rather than rousing, as both teams looked to settle any pre-match nerves and play themselves into a contest that was always likely to be a model of restraint and economy.
All the ingredients were set in place for the first dish at the new Wembley to be one fulsome in flavour but on the contrary, what was served up was more akin to a loaf left out in the sun; stale.
As both sides set out their stall with only a solitary striker apiece, the pace was pedestrian and punctuated only by Shaun Wright-Phillips' lethargic drive into the floor that brought an obligatory but half-hearted appeal for handball, when it flicked up against a blocking Wes Brown in United's area.
The thrust and verve that has characterised United as a forward force this season was conspicuous only by its continued absence, as the advanced Wayne Rooney and Ryan Giggs fluttered like effervescent butterflies, but stung like them too.
It was Chelsea that were the marginally more adventurous as their talisman Drogba, midway through, took possession and from 30 yards forced van der Sar to raise an eyebrow in consternation, but nothing more, as his thumper drifted a yard or so wide.
With both defences sat so deep that one supporter complained a player had taken his seat, it was always likely to be a midfielder coming from deep that would threaten the scoreline and so it proved, as Lampard twice breathed life into proceedings. The first concluded good work from Paulo Ferreira with a low shot that van der Sar gathered easily, the second, a drive from 30-yards dipped a yard or so over.
On the touchline both Sir Alex Ferguson and Jose Mourinho had remained poker faced, but at the interval it was the latter that elected to shuffle his pack, as Arjen Robben was introduced at the expense of the peripheral Joe Cole.
It was, though, United that took just 60 seconds to inject a sense of urgency into proceedings as Rooney jinxed past a flat-footed Michael Essien and forced Petr Cech into a smart parry from the edge of the area.
Buoyed at having finally having woken Cech, a snarling Rooney then went straight for the jugular of the opposition with a run that only concluded with a desperate lunge on the edge of Chelsea's area.
As the volume from the stands increased, so did the entertainment level on the field, as Giggs fired a volley just a yard or so over from Paul Scholes' sublime quarterback style pass from a central position, before the United midfielder entered Steve Bennett's book courtesy of his other trademark, a wild swipe at Lampard's knees.
It was not though a case of one-way traffic as Robben began to cause palpitations with his direct running style, and Drogba struck the base of the post with a cute free-kick from Chelsea's right that had van der Sar scampering across his goal.
As both sides momentarily lost their shackles and a proper contest began to emerge from all that had disappointed before it, Rooney's slalom run left Essien and John Terry chasing shadows, but not Cech, who saved bravely at the striker's feet.
Lampard will be disappointed he failed to get a shot away when stealing possession from Fletcher on the edge of United's box, before an unusually subdued Ronaldo fired weakly into the side-netting and Nemanja Vidic headed over, as the game crawled into extra-time.
In the first period of extra-time Giggs missed the type of chance he would normally convert in his sleep, when poking meekly at Cech from no more than four yards, with the goal gaping from Rooney's pinpoint right wing delivery.
Caution still reigned supreme, but at the other end, Drogba too was found lacking when directing his header wide at United's far post.
As lethargic limps looked as though they were resigned to penalties Drogba, as he has so often this season, grabbed the game by its scruff to finish with aplomb to decide a contest that flattered to deceive throughout.
Chelsea Cech, Bridge, Ferreira, Terry, J. Cole (Robben 46, A. Cole 120), Essien, Lampard, Makelele, Mikel, Wright-Phillips (Kalou 120), Drogba
Subs Not Used Cudicini, Diarra
Booked Makelele, Kalou, Ferreira, A. Cole
Goals Drogba 116
Manchester United Van der Sar, Brown, Ferdinand, Heinze, Vidic, Carrick (O'Shea 112), Fletcher (Smith 92), Giggs (Solskjaer 112), Ronaldo, Scholes, Rooney
Subs Not Used Kuszczak, Evra
Booked Scholes, Vidic, Smith
Goals
Attendance 89,826
Referee s. Bennett