top

top
Gilberto Hands United Silva Lining (Sky Sports)
Arsenal 1 Chelsea 1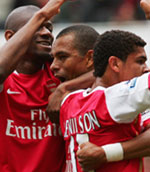 Manchester United are the new Premiership champions following Chelsea's inability to beat Arsenal, in a 1-1 draw at Emirates Stadium which hands Sir Alex Ferguson's side their first title in four years.
A Gilberto Silva penalty three minutes before half-time was enough to crown United as champions, in an incident that saw Khalid Boulahrouz leave the field for a professional foul and with the defender's departure, went Chelsea's dream of a third successive title.
With 20 minutes remaining Michael Essien gave Chelsea hope when he flung himself to divert Shaun Wright-Phillip's devilish delivery beyond Jens Lehmann, but at the final whistle, his efforts proved in vain.
Showing characteristic vigour and fight Jose Mourinho's men could have kept the title race alive as Joe Cole had a goal disallowed, Essien fired over from close range and Frank Lampard had a long distance drive repelled but it was not to be, as celebrations started early in Manchester, as Wednesday's top of the table clash was rendered redundant.
In the early hours of Sunday morning over in far-flung Las Vegas the cocksure Floyd Mayweather was celebrating taking the title off the old champ Oscar De La Hoya but into the afternoon, in London, it was the polar opposite as the veteran master Ferguson was left to celebrate and the younger Mourinho to reflect on being usurped as the Premiership's king.
Chelsea's line-up saw injury, or as the sceptic would suggest, defeatism rob them of both Ashley Cole and Didier Drogba and without their attacking talisman, the champions were shorn of a goal threat for much of the afternoon.
The opening sparring simmered rather than shone as Arsenal's narrow midfield competed manfully but failed to cause Chelsea undue concern.
There is of course no love lost between these capital neighbours following their Carling Cup final spat and so it was no surprise that the tackles were fierce and the pervading mood was one of disdain, in a first 45 minutes devoid of clear-cut chances, prior to Gilberto's penalty.
It was the languid Emmanuel Adebayor that looked the most likely for the home side but his robust forays were dealt with without fuss by an authoritative John Terry, while at the other end, Chelsea lacked punch without Drogba.
A full thirty minutes had elapsed before Chelsea caused consternation to Arsenal's backline, as Cole found space on the left edge of the home side's box but his lashed ball across just evaded the advanced Lampard.
As if spurred by Chelsea's impertinence at fortress Emirates, Arsenal moved the ball upfield and after Abou Diaby and Cesc Fabregas exchanged clever passes, Denilson's beautifully disguised and weighted through ball gave Adebayor a great chance but the striker's effort was meek rather than mighty.
Their next effort was, though, more decisive as Boulahrouz showed perhaps why he has been used so sparingly this season. Lehmann's long punt upfield evaded John Terry and after Julio Baptista had muscled past the dozing defender to gain a sight on goal, the Dutchman showed all the subtlety of the WWE wrestlers Mourinho so admires, in hauling down the Brazilian in the box.
Referee Alan Wiley had no choice in sending off Boulharouz, Gilberto no nerves in dispatching past Petr Cech from the penalty spot.
Buoyed by their goal Arsenal set out for the second half with renewed vigour and after a free-kick was only partially cleared, Adebayor's volley fizzed past Cech's far post, as William Gallas lunged to convert, albeit to no avail.
In truth, Chelsea looked leg weary from their midweek European exertions and with the champagne being uncorked in Manchester, it was Arsenal that looked the more likely to add to the scoreline.
Gallas will wonder how he failed to convert his header from no more than five yards, while Adebayor will rue a heavy touch that wasted Fabregas' sumptuous back-heel into his path.
Chelsea's dominance of English football has, though, been built on resilience as much as any other quality and Mourinho will be delighted with his players following Essien's header.
In the final minute a man not normally associated with being a hero of the United faithful proved just that, as Lehmann tipped over after Salomon Kalou fired in from the edge of the area, while Emmanuel Eboue smacked the bar in added time with a stunning strike on the overlap.
As Arsenal showed why they are still some way off mounting a bid of their own, Chelsea pressed incessantly but while they will consider themselves unfortunate, the masses at Old Trafford will care not one iota as celebrations start in earnest.
Arsenal Lehmann, Clichy, Eboue, Gallas, Toure, Silva, Baptista, Denilson (Hleb 59), Diaby (Hoyte 79), Fabregas, Adebayor
Subs Not Used Almunia, Djourou, Senderos
Booked Adebayor
Goals Silva (pen) 43
Chelsea Cech, Boulahrouz, Bridge, Ferreira, Terry, J. Cole, Essien, Lampard, Mikel (Diarra 74), Wright-Phillips (Sinclair 80), Kalou
Subs Not Used Cudicini, Makelele, Sahar
Booked Mikel, Essien
Sent Off Boulahrouz
Goals Essien 70
Attendance 60,102
Referee A. Wiley