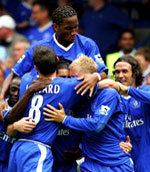 Accused of being too predictable, Chelsea confounded their critics by conceding the quickest goal of the Premiership season before recovering to record an expected victory over Southampton.
To James Beattie, the honour of scoring the first goal against Jose Mourinho's side. The Southampton striker compensated with an own goal to level and Frank Lampard's disputed penalty completed the comeback.
The nature of the goals notwithstanding, it was a convincing performance from the new-look Blues, showing spirit to accompany the defensive qualities in evidence in earlier games.
The Mourinho era began with three clean sheets but, after 270 minutes without conceding, it took Beattie just 12 seconds to break the deadlock. Following Joe Cole's sloppy pass, Southampton's first touch of the match was their captain's dipping half-volley.
Southampton had 89 minutes and 48 seconds to defend. Antti Niemi, and his able lieutenants on the line, kept Chelsea out for half an hour, but the bombardment of the visitors' goal only ceased when the bloodied Lampard went off for treatment.
Criticised for their defensiveness, Beattie's strike had a liberating effect upon Chelsea. Tiago, Lampard and Cole formed a triumvirate of attacking midfielders, cleverly prompting Didier Drogba and Eidur Gudjohnsen.
Drogba's pace and power illustrated why Chelsea paid 24 million for him; for a Southampton defence sorely missing Michael Svensson, he was simply unstoppable. After Gudjohnsen headed wide, Drogba was twice denied by the the agile Niemi and, after outmuscling Claus Lundekvam, turned provider for Lampard to shoot over.
The same combination required Graeme Le Saux to clear off the line to deny his former team-mate Lampard. Comparatively subdued for three games, the England midfielder was a pivotal figure, alternating trademark runs into the box with well-delivered set pieces.
A curling free kick joined the list of Chelsea near-misses and Lampard's involement in the leveller was inevitable, though the finish was inadvertent. Because, from the sublime to the scrambled, Beattie got the final touch to cancel out his earlier strike. Gudjohnsen attempted a Zola-esque flick from Lampard's corner, deflected the ball on to Beattie's knee and over the line.
Chelsea were unrelenting. Anders Svensson, who almost spared Beattie's blushes while on sentry duty on the line, produced a clearance to deny Tiago a second goal in as many games. Then yet another Lampard corner was handled by Lundekvam and, despite a slip reminiscent of David Beckham, the vice-captain scored the spot kick.
After two slices of fortune - albeit for deserved goals - Chelsea almost added other unorthodox goals. Paulo Ferreira's optimistic shot struck Gudjohnsen, left Niemi wrong-footed and rolled past the post. Rory Delap's misjudged header required the Finn to tip over his own bar. Lampard and Drogba, both with headers, spurned chances, but Southampton never threatened an equaliser.
So both managers maintained their 100 percent records - four games, four wins for Mourinho, and two defeats in as many matches for Steve Wigley at Southampton this season.
When Paul Sturrock left St Mary's, the Chelsea boss claimed he was not interested. There is little sympathy for Southampton right now.