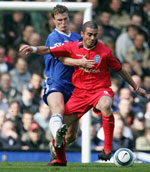 Birmingham City gave Chelsea an almighty scare at Stamford Bridge, forcing the hosts to come from behind to earn a 1-1 draw.
Despite dominating, Chelsea had been frustrated by Birmingham's stalwart defence, and found themselves behind to a Walter Pandiani striker 65 minutes in.
However, substitute Dider Drogba grabbed an equaliser for the champions elect, to earn them a draw ahead of their key European game against Bayern Munich next week.
Birmingham frustrated the league leaders through the opening half - although Joe Cole's industry and trickery threatened to break down their stalwart defensive efforts.
After prodding and poking at the visitors' rearguard, Chelsea's best early chance came from a free-kick, but Lampard's shot could only beat the Birmingham wall and not Maik Taylor.
Cole has made himself a key player for Mourinho of late, and he showed why with a fine run that left three defenders for dead before pulling his shot agonisingly wide of the post for the watching Stamford Bridge faithful.
Tiago nearly carved out a goal for Frank Lamaprd - but his cut-back was not close enough to the England man.
At the other end, Pandiani was feeding off scraps, but a fine piece of chest control and shot on the turn took a block from William Gallas.
Cole ballooned another chance over but half time came, and Mourinho was forced to bring on Eidur Gudjohnsen and Drogba - rested ahead of next week's crucial UEFA Champions League clash against Bayern Munich.
Gudjohnsen nearly had an immediate impact, attempting to flick John Terry's header past Taylor but planting his effort over, and soon after Birmingham then provided a timely reminder that they were not out of the game.
Petr Cech has been scintillating this season, and he had t be at his best to deny Darren Carter from a fine first-time volley.
The ball fell to Mehdi Nafti, and John Terry was forced into a superb full length block to keep the game scoreless.
Gudjohnsen and Duff were combining well down the left flank, and the two carved out a fine chance for Drogba, only for the striker to head over with Taylor beaten.
Seconds later and Drogba was again at fault, blocking a Duff shot when in an offside position, as Chelsea turned the screw in search of the opener.
Upson was at his sharpest to deny the Ivorian a chance to make amends, sliding in to dispossess the striker as he readied himself to shoot.
And then the unthinkable happened, Birmingham won a free kick which looked to be heading out of play to everyone in the stadium - including Cech.
But Upson had other ideas, nodding back beyond stranded keeper, and allowing Pandiani to show all his technique in volleying first time into the net despite a despairing attempted block from Terry on the line.
The goal brought renewed Chelsea dominance, Taylor tipping over from Huth and Terry planting a header side from the resultant corner.
Somewhat inevitably, it was the increasingly influential Lamaprd - the hero in midweek - that played the key part in the leveller.
A tenacious Chelsea attack saw the ball roll through to Lampard, but he chose the unselfish pass for Drogba, who finally showed why he is Mourinho's normal first choice striker with a competent slotted finish.
The momentum restored to the hosts, Taylor had to be on hand quickly to prevent Chelsea taking the lead - his full length save preventing Gudjohnsen drive from curling past him.
Chelse ketp battling for victory, but they simply could not get past Upson - who was outstanding throughout - their last chance seeing Jiri Jarosik volleying into the side netting when well placed.
Honours even at Stamford Bridge - and a hugely creditable performance from Birmingham against a Chelsea side that are increasingly difficult to beat.