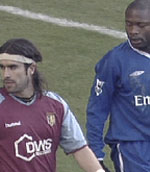 Chelsea maintain their position at the Premiership summit after a workmanlike 1-0 victory over Aston Villa at Stamford Bridge.
Jose Mourinho's table-toppers were never at their electric best on a cold afternoon in West London but a neat goal from Damien Duff was enough to claim maximum spoils from an under-strength Villa side.
David O'Leary was forced to field a side brimming with youthful vigour but without the nous of the seasoned pro and in truth their forays were tidy but never likely to penetrate an unyielding Chelsea defence.
Mourinho has been quick to instil the virtue of patience in his players and for the opening half hour, an inexperienced but busy Villa side ensured this was not the wholly one-sided affair many predicted at the onset.
Spearheading Villa's front-line was Juan Pablo Angel and the Colombian was sharp as a lone target man, creating the odd palpitation for Chelsea's back four.
However, it was the willingness of Arjen Robben to run at the opposition that nearly conjured the opener, after his mesmerising and electric run was stopped at the last by a desperate block.
The Dutchman was a menace all afternoon but had Lee Hendrie delivered the type of shooting he had earlier in the season, then Chelsea could have found themselves trailing.
Petr Cech was forced into a comfortable save when Hendrie tried to be too cute when well positioned and then the same player could only find the back of Claude Makelele after Angel had dispossessed a sluggish William Gallas.
Sandwiched between Hendrie's cameo was a majestic hit from Duff that arched narrowly wide of the far post after he had cut inside onto his favoured left foot.
Chelsea's warnings were not to be heeded and on the half hour mark, it was Duff who broke a deadlock Villa had previously defended comfortably.
A clever ball from Frank Lampard released Robben and the floating forward was direct and strong in his running. Villa's Gareth Barry followed the ball and Robben was allowed to slip in Duff down the right, who after cutting inside Luke Ridgwell, slammed the ball past Thomas Sorensen from eight yards.
Villa's woes were intensified when Mark Delaney hobbled off before Ulises de la Cruz, an emergency midfielder, forced a decent parry from Cech after he attempted to poke over the head of the giant Czech.
Robben saw an effort cleared off the line and then Terry crashed an effort wide from a corner before at the other end, Peter Whittingham's free kick eluded everyone in the box except an unsighted Cech who managed to parry wide.
The second period saw Chelsea boss possession, as the threat of Robben and Duff on the counter always looked likely to find a decisive second.
Chelsea's threat from set-pieces is a major part of their attacking armoury and had Gallas not been slow to react from Duff's centre, then the contest would have been declared dead much earlier.
Instead his header drifted wide and then Villa could have found a goal of their own, when after Terry and Cech were involved in a moment confusion, the ball momentarily ran free but a lack of attacking support rendered the chance redundant.
Eidur Gudjohnsen should have netted from Lampard's cute pass but Sorensen was out quickly and smothered before Robben's jinking run ended with a ball lashed across the Villa goal.
For the most part Villa were reduced to shooting from distance, with Nolberto Solano's effort the most likely, as the visitors understandably struggled for invention in the final third.
With this the first of four games in nine days, Mourinho will care little for the manner of the victory but much for the three points that keeps Chelsea on course for their first title since 1955.