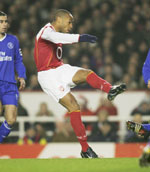 Chelsea twice came from behind to earn a 2-2 draw against Arsenal, with Thierry Henry's brace plastering over The Gunners' defensive shortcomings.
Henry had taken just 70 seconds to open the scoring with a well placed drive, but Arsenal failed to pick up John Terry for a 17th minute corner and he headed home an equaliser.
Henry's quickly taken free-kick put Arsenal ahead for the second time, but another set piece was converted by Eidur Gudjohnsen before a game that had pulsated for 50 minutes finally ran out of steam.
A scintillating opening half could have left little doubt that these are the best two sides in England - but concentration was at a premium as defensive lapses allowed three well-taken goals.
It took only slightly longer for Henry to open the scoring than it had taken the first complaint to register on the hotly-debated inclusion of Manuel Almunia ahead of Jen Lehmann in the Arsenal goal.
The French star killed a flick on by Jose Antonio Reyes with his right instep, and sensing that his space was being closed down whipped a brilliantly judged left-footed shot well beyond the towering Petr Cech, who barely moved before the ball hit the back of the net.
The Highbury faithful could hardly believe their luck, but the sense of danger quickly returned when Arjen Robben was flagged for a tight offside momentarily before smashing the ball past Almunia.
Then it was all square, as Arsenal's inability to defend set-pieces came back to haunt them in spectacular fashion.
Bizarrely, nobody picked up Terry - the most effective set-piece predator around at the moment - and the Chelsea skipper's sublime header was only helped into the back of the net by the despairing dive of Arsenal's keeper.
In lesser games the leveller might have signalled a let-up in the pace, but this Highbury pot-boiler showed no sign of cooling, as a lightning passage of play brought chances at both ends within a minute.
First, Henry was just an inch away from connecting from a cross that looked to have brought him his second goal of the game, and then, scarcely 10 seconds later, a fine Chelsea break gave Gudjohnsen just enough space to badly fluff his shot as the Arsenal fans held their breath.
The Icelander should have taken that chance earlier, but made no such mistake when he fractured the offside trap minutes later, drawing a decent save from Almunia from a first-time shot.
But Arsenal got their noses in front, in somewhat controversial circumstances, when Robert Pires was given a central free-kick for the lightest of shrugs by two Chelsea players.
Henry asked Graham Poll if he could take a quick free-kick, but with the referee appearing to indicate to his whistle and Cech still lining up his wall, the French striker chanced his luck and was rewarded when his effort clipped the completely unaware Tiago and looped past the scrambling keeper.
Chelsea made half time changes, with Wayne Bridge and Didier Drogba on, but neither featured as yet another set piece undid The Gunners for a quick-fire leveller.
Terry's ominous run to the front post drew half the Arsenal defence and Gallas climbed at the back post to nod down, allowing Gudjohnsen to stoop and loop his header neatly into the top corner.
Alarmingly, The Gunners did not learn their lesson, and Lampard should have done better when another swung-in set-piece saw Arsenal's entire defence congregate well away from the intended target, leaving the England man to direct a free-header woefully over.
Cue the first lull in the game, with both sides appearing to mull over the not-too-devastating prospect of a 2-2 draw, and play contracting into the middle third of the pitch.
However, Henry showed that another momentary lapse could easily hand him a hat-trick when he thumped a shot that had Cech scrambling before striking team-mate Ashley Cole's shins and drifting well wide.
At the other end Chelsea's Robben showed he too can create chances from nothing when he drifted all-too-simply past Cole and Sol Campbell before slicing a close range shot into the side netting.
Unbelievably, Henry - of all people - contrived to miss a glorious chance to grab a hat-trick, the match ball and a victory for Arsenal when a fine move 77th minute move saw Cesc Fabregas release Pires on the right, and the winger pick out Henry just outside the six-yard box.
To widespread disbelief, Henry appeared to panic, flashed at the ball and planted his effort high and wide of Cech's goal.
Claude Makelele should have done better when a still unmarked Terry headed towards goal, and the Frenchman got too much contact and flicked over, but Arsenal came even closer when young-gun Robin van Persie rolled the ball agonisingly past the post as The Gunners piled on late pressure.
The crowd were adamant that Mathieu Flamini could have had a penalty five-minutes from time, but Scott Parker's competent shoulder was rightly adjudged to have been fair.
Arsenal went into the game as under-dogs - with captain Patrick Vieira, Edu and Gilberto Silva all ruled out.
But, in Henry, The Gunners have a player capable of deciding any game - even when his defence are incapable of marking at set-pieces.